MOUNTAINS & MONSTERS ANSWER THE KITTEN LIFE QUESTIONNAIRE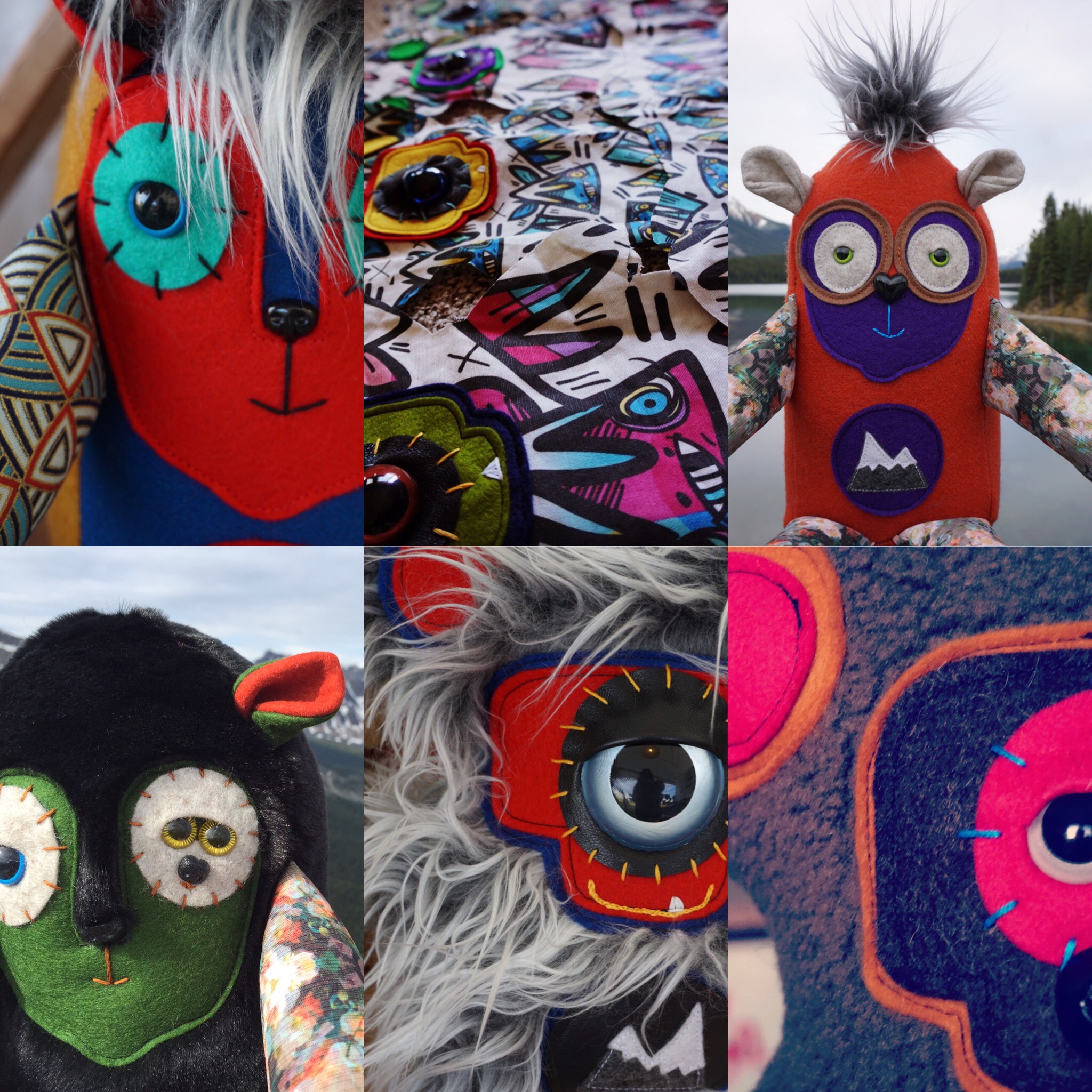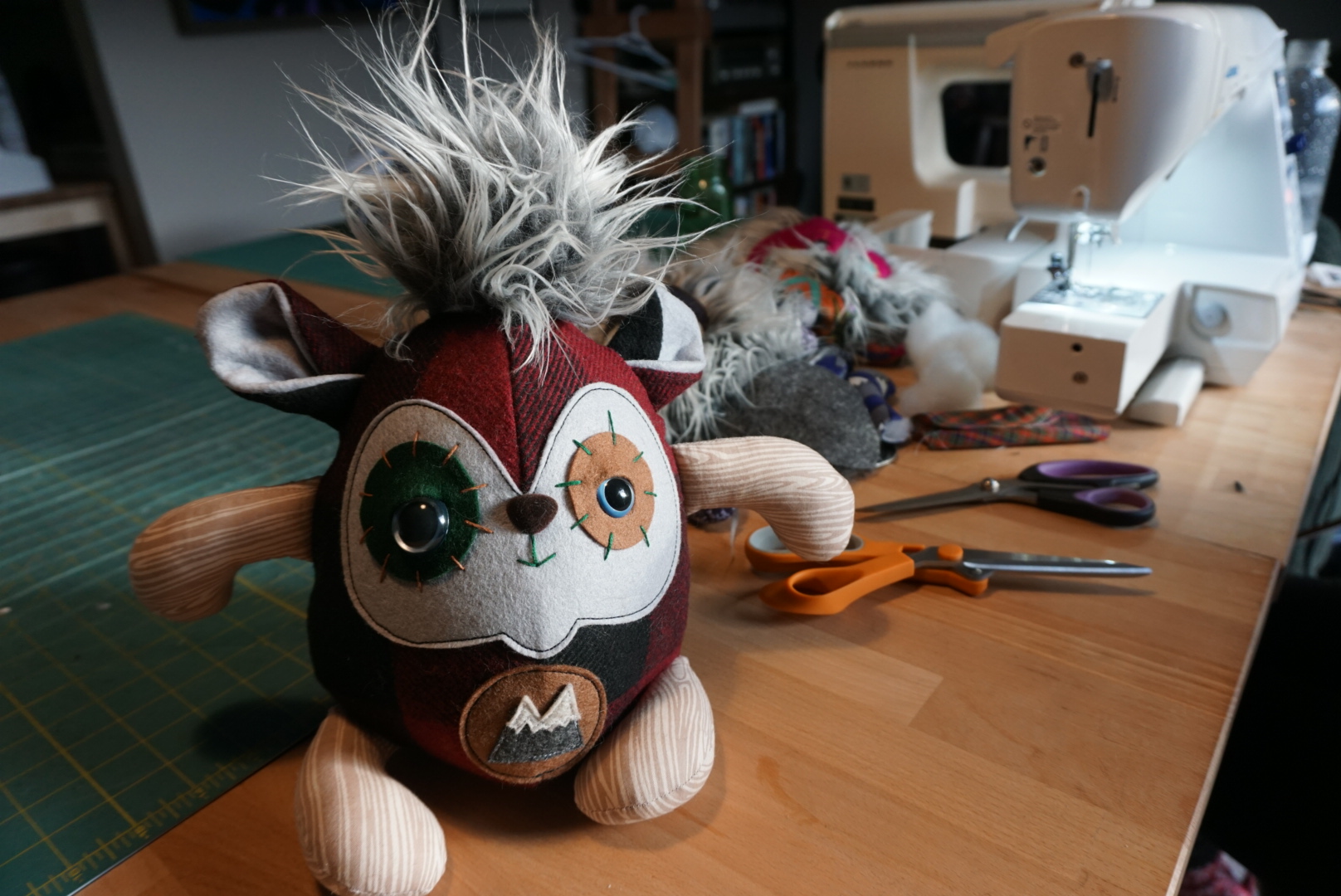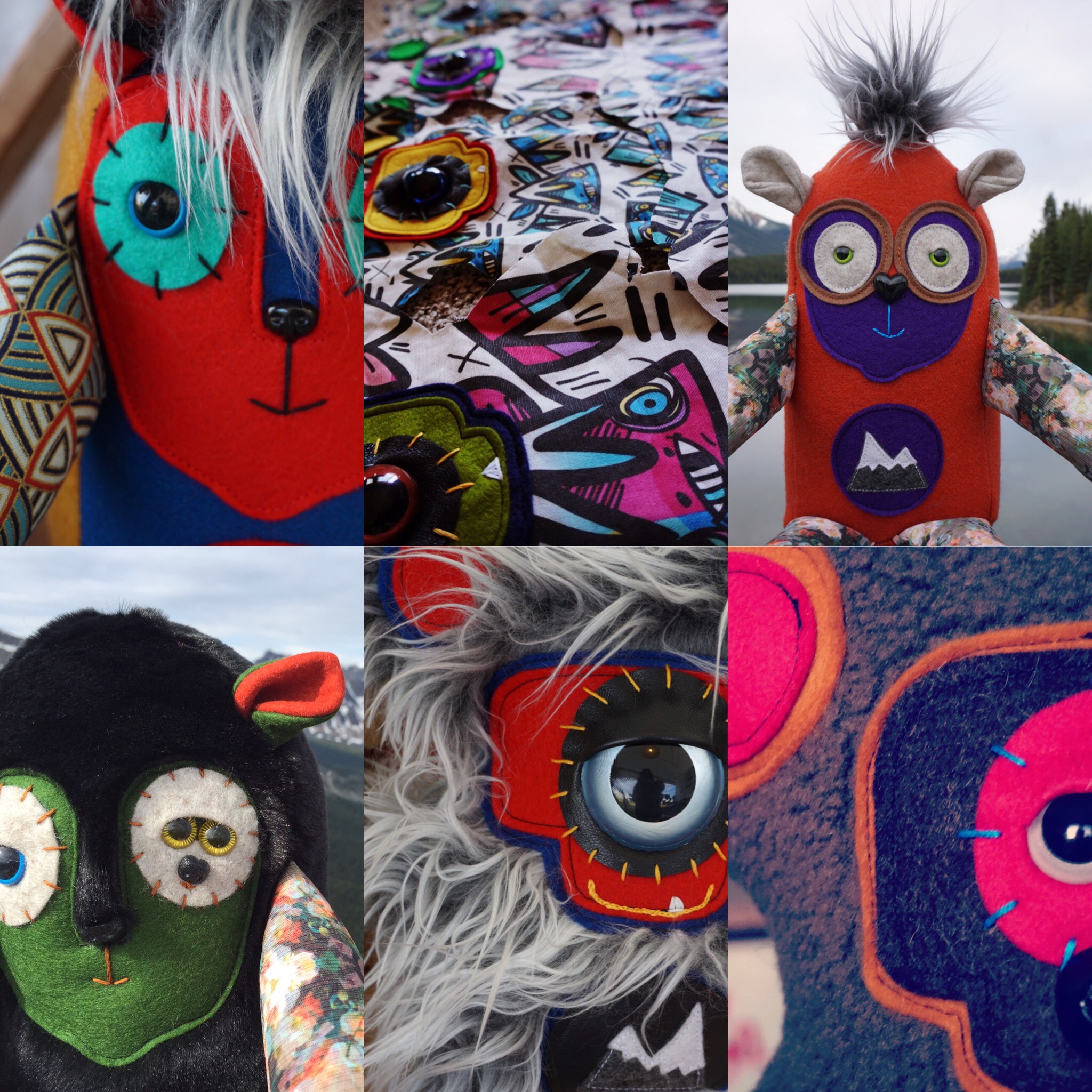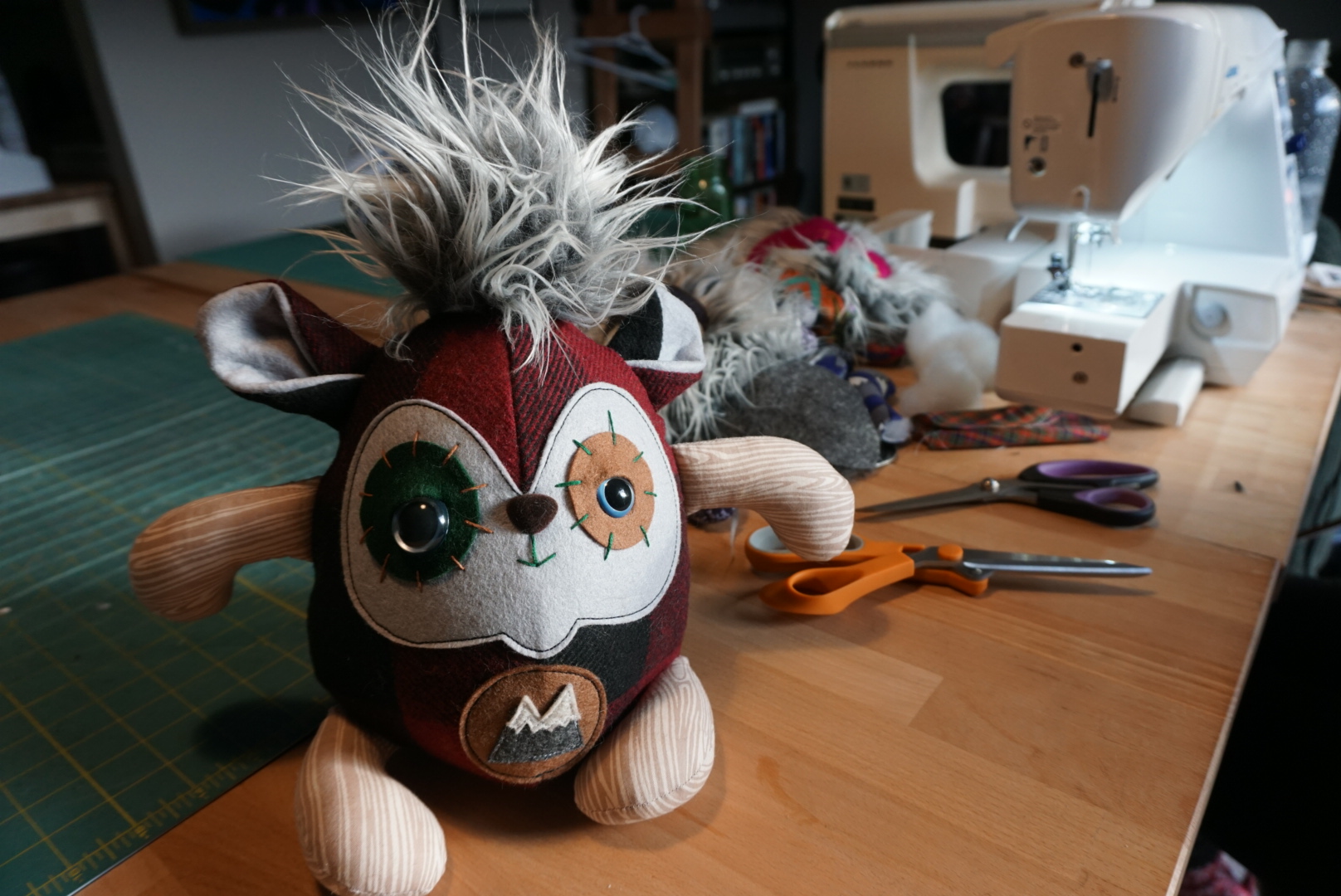 Megan Vicente and Elliott Ingles of Mountains & Monsters are two of the kindest, coolest and most outdoorsy human beings we've ever met.
And if there's anything we kittens love, it's groovy people like Meg and Ell who love everyone and everything - especially our big ol' Universe.
Driven by a deep love and respect for the environment, both of these cool cats work for Jasper National Park, nestled in the Canadian Rockies (we spent a week visiting them last March and you can check out our review of the experience here).
Their weekends are spent hiking, biking and exploring new parts of the wilderness community they live in and eating new recipes that Meg cooks up in their cozy apartment.
Most interestingly though, their evenings are spent crafting.
After many of said evenings spent tinkering around with polymer clay figurines, felted dolls and other toys and objects purely for the joy of creation, they eventually stumbled upon what is now their signature plushy: a sleepy-eyed and totally huggable mountain pillow.
Today their arsenal consists of custom monster plushies, patches, pins, pennants, pillows and more, and they've been making the rounds of some of western Canada's biggest craft fairs, including the upcoming Royal Bison Art and Craft Fair in Edmonton December 2nd-4th 2016 (go check them out if you're in the area!).
Everything they create is made with a deep love and understanding for the world around them.
This has involved selling their products through one of their biggest supporters, the Friends of Jasper National Park Shop, a non-profit organization whose proceeds go back into maintaining and preserving Canada's largest national park in the Rockies.
The Canadian Rockies are vast, beautiful and will absolutely take your breath away if you're lucky enough to visit. Meg and Elliott spend most if not all of their time surrounded by enviable views and pristine nature.
"We're going to craft and we're going to be outside, it wasn't the original intention of our work, but our mountains and mountain-dwelling monsters are a way to tie all the things that we love together," says Megan.
"You see it on the faces of the people who come to visit and see the mountains for the first time. We know that for a lot of people it's a once in a lifetime trip, and it's really nice that so many people love our stuff […] that they've made the connection to this place and get to take something home with them that reminds them of it," says Elliott.
They've also teamed up with the Spectacled Bear Conservation Society in Peru to create felted mountain christmas ornaments, the proceeds of which contribute to giving fair wages to marginalized women in small communities in Peru, as well as the society's environmental conservation efforts.
This past summer they created a limited-edition rainbow mountain and huggable heart pillow for the Jasper Pride Festival and donated proceeds from sales to the Jasper Pride Festival Society.
They have also given workshops at the Jasper Go Girl Conference that empowers young women to lead healthy, active lives.
Most touchingly, their supporters love sharing photos of their monsters and mountains out exploring the world with their new owners.
You can check out more stuff by Mountains & Monsters on their Instagram, Facebook page and their website (where you can order your very own custom mountain or monster!).
And if you're in Jasper, be sure to stop by the Friends of Jasper gift shop for some of their latest creations.
The Kitten Life Questionnaire
by Megan & Elliott of Mountains & Monsters
1. What is your present state of mind?
Elliott: Panic.
Megan: Tired but happy, you have to work hard to get somewhere good!
2. What's your sign?
Elliott: Scorpio
Megan: Aries
3. What is your favourite vice?
Elliott: Scotch and a cig.
Megan: Mmm, I don't put that on the internet.
4. Puppies or kittens?
Elliott: Puppies
Megan: I'd say puppies… can't stand those needle-like kitten nails.
5. What is your most prized possession?
Elliott: Photos.
Megan: Emily, my stuffed bear.
6. If you could be any plant what would you be?
Elliott: Basil.
Megan: A cedar tree - close to water, gives lots of life, lives a long, long time.
7. What is your idea of perfect happiness?
Elliott: Breakfast with Meg.
Megan: Elliott :)
8. What's the first thing you would buy if you moved into a new space?
Elliott: A big ass rug.
Megan: Something to make coffee.
9. What is your favourite colour?
Elliott: Plum.
Megan: Rainbow.
10. If you could teleport at exactly this moment, where would you go?
Elliott: Chinatown, in Thailand.
Megan: Downtown Tokyo, I'd eat some wicked street food and go see some weird show.
11. What's your recurring dream/nightmare?
Elliott: Getting chased by children.
Megan: Finding out, at the end of a semester of university, that I've forgotten one of my classes.
12. What piece of art has made an impression on you?
Elliott: Anything by Ralph Steadman.
Megan: I can't honestly say that any one piece of art has made an impression on me… I like the act of making art more, and people who devote time to making art - that's what makes an impression on me!
13. What's the most romantic experience you've had?
Elliott: Swimming in the ocean in Asia at sunset with Meg.
Megan: My relationship with Elliott. I'd never have known how fulfilling it is to be in love with my best friend. We've been together for just over four years, and I still can't wait to get home at the end of every day to be with him.
14. What is the smell of sex?
Elliott: Sweaty.
Megan: Damp, sweaty and indulgent? Was that supposed to be literal?
15. What do you wish you could relive?
Elliott: Watching Meg swim past a sea turtle.
Megan: Travelling.
16. What is consciousness?
Elliott: A blank mind.
Megan: A hell of a lot of unconsciousness.
17. Who do you most admire?
Elliott: My folks because they had poorly behaved children.
Megan: All the people I love… or Shania Twain. Can't decide.
18. What is your advice for future generations?
Elliott: Everyone is equal.
Megan: Treat the world like you are a guest in its home. Be nice, nice people always win.
19. What is the meaning of life?
Elliott: I have no idea.
Megan: Good question!
You can check out more stuff by Mountains & Monsters on their Instagram, Facebook page and their website.
You can check out other Kitten Life Questionnaire posts featuring Canadian and International artists, creatives, movers and shakers here.